Donald Trump announcement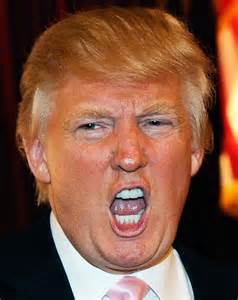 In-class exercise: Cover a mock announcement by U.S. Republican presidential candidate Donald Trump. For this exercise, consider the news bulletins that would be used for a surprise announcement. Such bulletins are also known in newsrooms as "snaps," "headlines," and "alerts." Unlike most of the news, they're written in the present tense, in a format designed to rush the news to readers for maximum impact, especially to the extent that it may fuel multibillion-dollar trades on international financial markets (which don't like uncertainty). For Trump's announcement, the snaps might look like this:
-- REPUBLICAN TRUMP SAYS QUITTING U.S. PRESIDENTIAL RACE IMMEDIATELY
-- TRUMP ACCUSES DEMOCRATIC RIVAL HILLARY CLINTON OF RIGGING SCHEDULED NOV. 8 VOTE
-- TRUMP BLASTS MAINSTREAM MEDIA, DEMOCRATIC PARTY AS "THOROUGHLY CORRUPT"
-- TRUMP URGES SUPPORTERS VOTE INSTEAD FOR HIS RUNNING MATE, GOV. SPENCE OF INDIANA
The followup item, which would run in quick succession, could look like this:
Trump says Quitting U.S. White House Race

Suburban Shanghai, China, Oct. 25 -- Republican Donald Trump announced Tuesday that he was dropping out of the U.S. presidential race, accusing Democrat rival Hillary Clinton of rigging the vote.
""Hillary Clinton and her aides have made it impossible to hold a free and fair election on Nov. 8," Trump told a surprise news conference at a journalism class in suburban Shanghai, China, calling on his supporters to vote instead for his running mate, Indiana Gov. Mike Spence.
After this, an "Update 1" would be crafted, giving more details of Trump's announcement along with background on his position in public opinion polls and his remarks to our class -- a world exclusive.
Here is the text of Trump's announcement, as delivered to our class on Oct. 25, 2016:
"Ladies and gentlemen, Hillary Clinton and her aides have made it impossible to hold a free and fair election on Nov. 8.
The mainstream press and the Democratic party are thoroughly corrupt.
I'm withdrawing my candidacy to be president of the United States.
Instead, I'm urging all my supporters to vote for my vice presidential running mate , Gov. Mike Spence of Indiana.
I will announce additional plans one week from today at a news conference at my new Trump Hotel in Washington DC."